Zenopolis > Gallery Grabber QED 2 > Support
Gallery Grabber QED 2 Browser Extensions
Using a browser extension allows you to download a gallery with a single click.
For Safari you can use the built in App Extension. For other browsers there is the Gallery Grabber Bookmarklet.
Safari App Extension
This built in App extension for Safari makes it even easier to download graphic files from web based picture galleries to your hard-drive.
Requirements
Gallery Grabber QED 2 or later.
macOS 10.12 (Sierra) or later.
Safari.
Installation
Open Gallery Grabber QED 2
Select the menu item Gallery Grabber > Preferences…
Select the Extension icon in the preferences toolbar
Click the Open Safari Extension Preferences… button
Make sure Gallery Grabber QED 2 is switched on in the list of extensions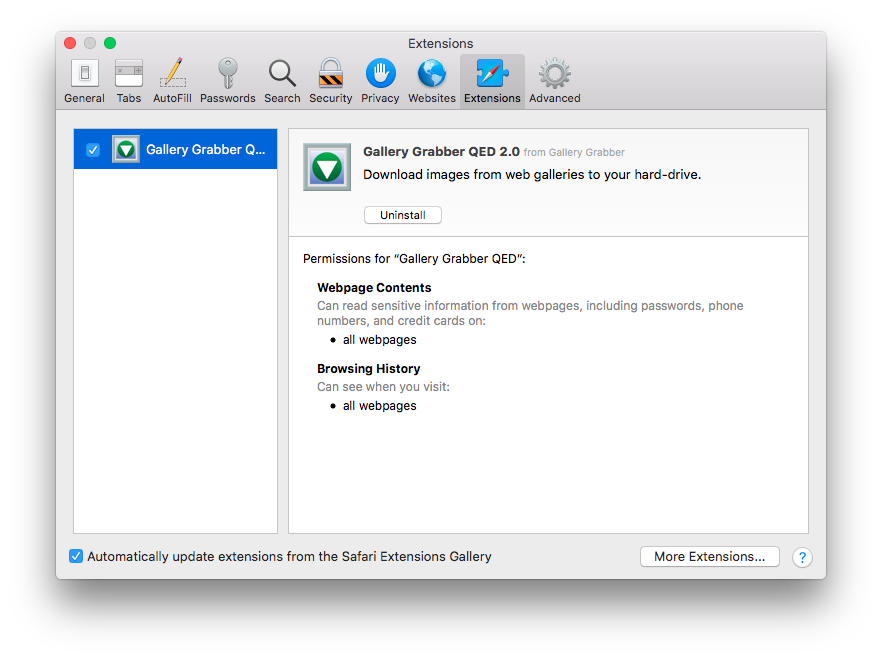 Toolbar Button
The toolbar button sends the current gallery page to Gallery Grabber QED for automatic processing. You can configure the Safari toolbar using the Safari menu View > Customize Toolbar…
Context Menu
Hover over a link in Safari (one that goes to a Gallery Page) and bring up the context menu: The Grab Gallery menu item will send the link directly to Gallery Grabber.
Bookmarklet
This Bookmarklet allows you to grab galleries from other browsers with Gallery Grabber QED 2.
---
Using the Bookmarklet in Firefox
Make sure the Bookmarks Toolbar is showing…
Toggle the Bookmarks Toolbar on and off using the menu View > Toolbars > Bookmarks Toolbar
Click on this webpage
Drag the Bookmarklet onto Bookmarks Toolbar
---
Using the Bookmarklet in Chrome
Make sure the Bookmarks Toolbar is showing…
Toggle the Bookmarks Bar on and off using the menu View > Always Show Bookmarks Bar
Click on this webpage
Drag the Bookmarklet onto the Bookmarks Bar
---
Getting started:
3:

Browser Extensions